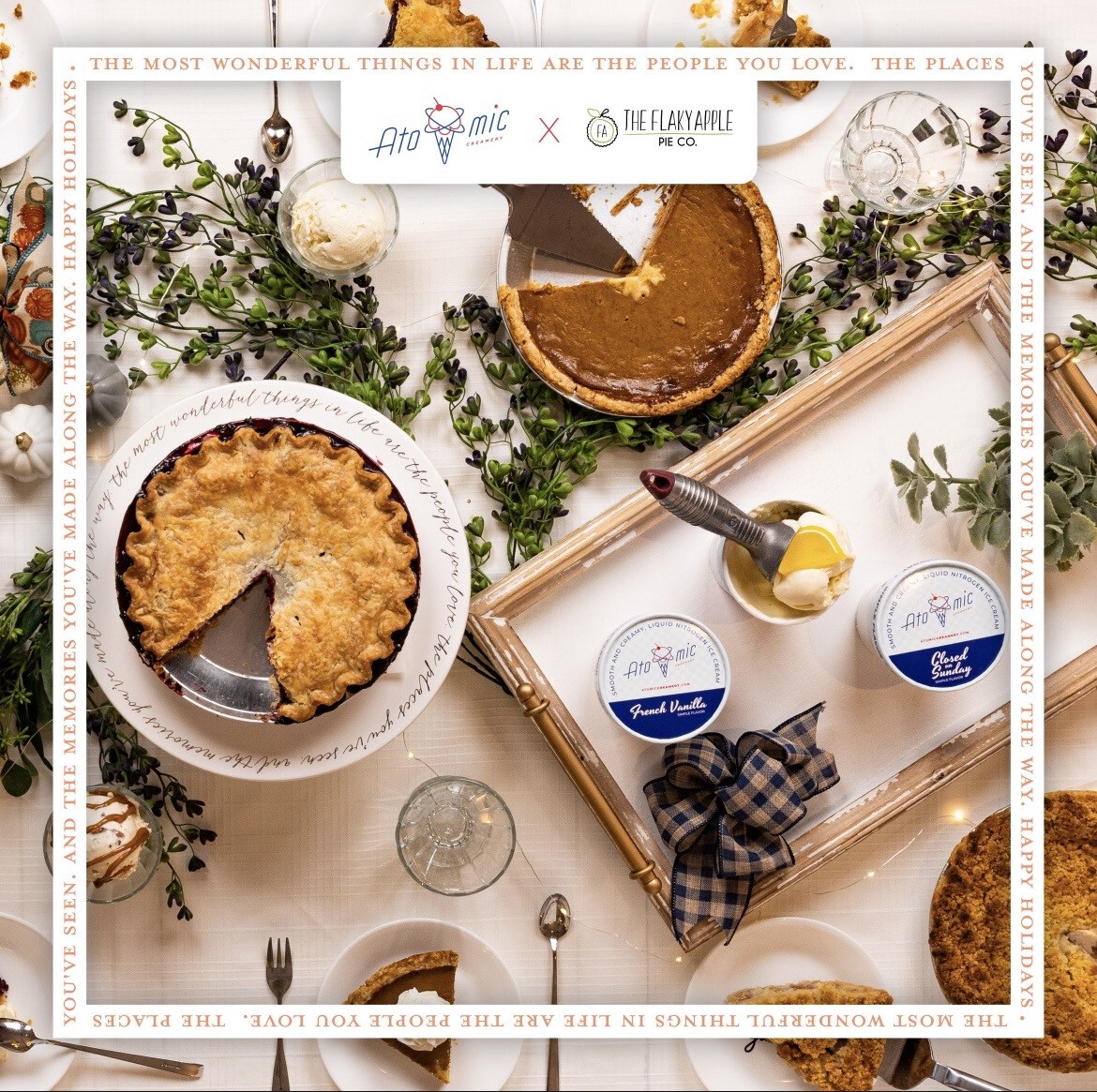 Pie + Ice Cream (LOCAL OC/LA DELIVERY)
SKU LIM-PICREAMDEL
Product Details
WHO LOVES Pie + Ice Cream (Pi-Scream) especially when YOU do not have to make it from scratch! Just bake from frozen…

Atomic has partnered with Flaky Apple Pie Co, to delivery to you or your friends, family and co-workers our ice cream paired with pie. Delivered in a gift bag with a personalized greeting card.
You choose 1 of 2 pie flavors (3 options for Local Delivery). Pies are delivered frozen, which means you bake them when you want, filling your home with an amazing scent and your taste buds with amazing taste.

Pie Descriptions
Each pie is 9" and serves 6-8
Dutch Apple Crumb:
The classic apple pie, made with over a pound of hand cut Granny Smith apples, tossed with the perfect balance of cinnamon and sugar then topped off with our heavenly crumb topping.
Boysenberry:
Delectably sweet and tangy boysenberries tucked under our signature flaky buttery crust will be sure to have you thinking of long summer days.
Pumpkin: ( local LA/ OC delivery only)
Busting with flavor, this pumpkin pie is rich and smooth, paired with the perfect blend of spices and pumpkin. You'll be sure to impress your guests with this one, especially when you can answer "Yes, I baked it!".
DELIVERY NOTES:
Pie Orders for Delivery will begin week of 08NOVEMBER2021
Pie Orders for LOCAL OC and LA DELIVERIES will begin delivery in OC/ LA 10 NOVEMBER through Thanksgiving Eve. Orders be placed by noon 15November.b. All orders placed after 15November will be subject to rush fee.
Save this product for later