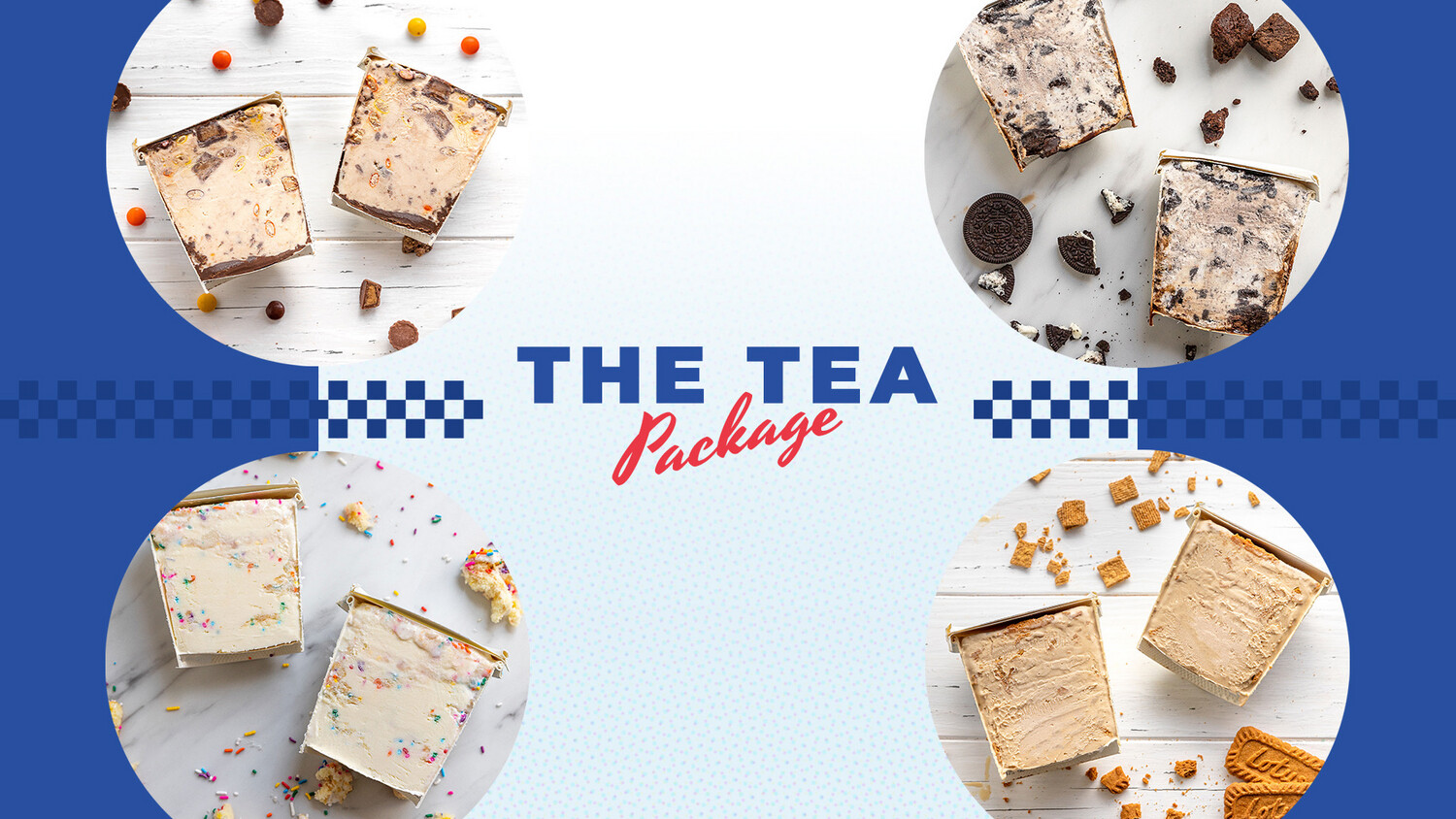 NATIONWIDE the TEA
SKU NAT-theTEASHIP
Product Details
Clover Product ID:
5YEYERXB9P6TP
IF YOU ARE ONE OF THOSE ICE CREAM LOVERS WHO WANTS ALL THE GOSSIP ON THE LATEST AND GREATEST AND YOU REALLY LIKES ICE CREAM ON THE SIDE OF ADDINS WE HAVE YOU COVERED.
IN THIS BUILD YOUR OWN BOX CHOOSE FROM FOUR OUR HOUSE SPECIALTY ONE OF KIND CREAMATIONs AND TWO PINTS FROM THE REMAINDER OF THE MENU:
AB2: Vanilla Base, Funfetti Birthday Cake, Butter Cream Frosting Topped with Whipped Cream and Sprinkles
BUCKEYE: Dairy Base, Peanut butter, Reeses Pieces, Crushed Reeses Cups topped with Ganache
CHOCO 2: Vanilla Base, Oreos, Brownie Bites Topped with Oreo, Brownies and Chocolate Drizzle
CHOCO 3: Chocolate Base, Oreos, Brownie Bites Topped with Oreo, Brownies and Chocolate drizzle
GRAMHATTAN PROJECT: Dairy Base, Lotus Biscoff Cookie Butter
OWEN EXPERIMENT: Vanilla Base, Strawberry or Seasonal Puree, Seasonal Fruit, Halal Marshmallows, Oreos Topped with Oreo, Marshmallow Drizzle and Seasonal fruit (SEASONAL REPLACED WITH SEASONAL FRUIT WHEN STRAWBERRY IS OUT OF SEASON)
HALVAH : Dairy Base, Halvah, Turkish Pistachios
MOO-LESS = DAIRY FREE
_______________________________
Atomic Creamery Ice Cream is fresh made to order. We will mix your ice cream, flash freeze it with liquid nitrogen, hand pack it, seal it and box it for nationwide ice cream shipping.
Veteran Owned and Operated, Atomic Creamery is the best, Fresh Made To Order, organic ice cream. We hand select all our ingredients and the best part of Atomic Creamery is what we don't put into our ice cream. There are NO stabilizers, carrageenan, gums, corn syrup, or any artificial flavors or colors. We use only the freshest ingredients to create premium desserts for you to enjoy!
Atomic Creamery is your best choice to order nitrogen ice-cream online.

Save this product for later